FL-0605 is a snowtrooper. He is one of the main characters of the episode 2 of Stormtrooper Brickfilm - The series.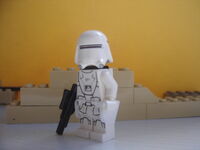 He uses a simple gun. In the episode 2, he accompanied FN-1907 and the other stormtrooper in the forest of the Starkiller Base.
He is one of the soldiers on the Starkiller Base. He can drive a snowspeeder.
Personnality
Edit
Appearance
Edit
- Episode 2 Season 1 - The ice (La glace)
- Episode 4 Season 1 - Attack on D'Qar (Mission sur D'Qar) Death