FN-2016 is a simple stormtrooper with a Z6 baton. He is one of the main characters of Stormtrooper Brickfilm - The series.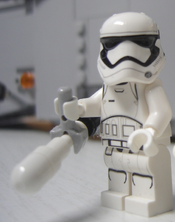 He uses a simple gun with his Z6 baton. In the episode 1, he and his 2 companions are stuck on Jakku. At the end of the episode, he is deliver by Captain Phasma and other stormtroopers.
FN-2016 was based has a member of the FN Corps. He learned to use a Z6 baton. During his youth he met FN-2187 and FN-2199. Some months before the Force Awakens, he is sent to an other squad. In this squad there just 2 other stormtrooper : BR-4153 and FN-1907.
Personality
Edit
He always likes finishing what he began. He never abandons during a fight. In the episode 1 he sees that the lady sets a trap to him. He fights she, but she is transformed into Crocodile. He faces it relentlessly with his Z6 baton.
Appearance
Edit
- Episode 1 Season 1 - The crash (Le crash)
- Episode 2 Season 1 - The ice (La glace)
- Episode 3 Season 1 - Best moments (Meilleurs Moments)