LEGO The Cranky Cavetroll
is the second LOTR film by Brotherhood Workshop.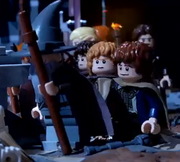 The film begins in Balin's Tomb where Gimli find Balin's coffin. Gandalf then gives Merry his hat and staff and picks up a piece of paper and implies that it is a party invitation. Merry then runs into the well and knocks down the skeleton and bucket. Deep below, the Cavetroll is recieving his birthday cake until it is smashed by the skeleton and bucket. The orcs and the furious troll burst into the tomb and the troll says in his language: "You ruined my birthday!" until he is shot by Legolas with an arrow. The Troll calls him a jerk and attacks.
Trivia/Goofs
Edit
Gollum can be spotted at the start of the video.
Yoda is present at the Cave Troll's birthday.
The lines around the Cave Troll's "happy eyes" are visible.