Lobot
is a minifigure from the Lego Star Wars theme that makes appearances in some brickfilms.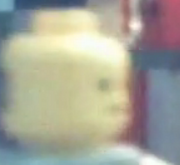 Notable Appearances
Edit
Lobot appears as the owner of a Twin Pod Cloud Car that gets hijacked by a hippy.
Lobot appears aiding Han Solo and Luke in trapping Darth Vader. Like all the other characters in the film, he engages in a Lightsaber battle.
Lobot makes a cameo standing by Lando and the Bespin Guard when Leia, C-3PO, Han Solo, R2-D2, and Chewbacca arrive on Cloud City.